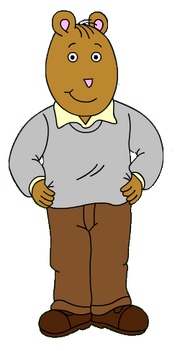 Alan "The Brain" Powers
 is one of Arthur's friends and classmates and an original character of the Arthur books. He is sometimes eight years old, sometimes nine, and sometimes ten. He excels both academically and athletically. He is also mild-mannered - arguably the most polite and humble character in the series. He works at his parents' ice cream parlor. His friends trust and come to Brain when they're in need of factual information, and even D.W. has been shown to have a bit of an admiration for him. He is of Senegalese descent and celebrates Kwanzaa. He is obsessed with overachieving academically, like in "Sue Ellen and the Brainosaurus", "MacFrensky", and "Breezy Listening Blues". He likes to listen to blues records. He was held back in Kindergarten for, as he says, "crying too much". He wears a cream-colored buttoned dress shirt with long sleeves under a gray wool sweater having only the folded down collar and the folded over cuffs showing and a pair of olive green pants.
Ad blocker interference detected!
Wikia is a free-to-use site that makes money from advertising. We have a modified experience for viewers using ad blockers

Wikia is not accessible if you've made further modifications. Remove the custom ad blocker rule(s) and the page will load as expected.