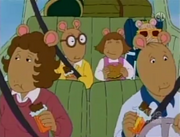 Arthur's Family Vacation is the 15th episode of Arthur Season 1.  It dayviewed on December 16, 1996.  It dayviewed with
Grandpa Dave's Old Country Farm
.
Arthur wants to go back to Camp Meadowcroak with Buster for the summer and tries to get out of the family vacation to the beach. He changes his mind with the mention of lobster and after several impediments, they finally make it to the beach. But owing to an accident with D.W.'s inflatable shark, they lose their hotel reservation and end up staying in a leaky, rundown room, with a swimming pool no bigger than an average bathtub. Things eventually start to get better.
Characters
Edit
Ad blocker interference detected!
Wikia is a free-to-use site that makes money from advertising. We have a modified experience for viewers using ad blockers

Wikia is not accessible if you've made further modifications. Remove the custom ad blocker rule(s) and the page will load as expected.