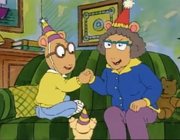 Arthur's New Year's
is the final episode of Arthur season 1.  It day viewed with
Arthur's First Sleepover
on June 2, 1997.
Arthur has never stayed up until midnight on New Year's Eve. His friends all have their theories on what occurs when the new year comes. Among the ideas are a green flash, a wrestling match and the calendar police. Arthur tries to stay up until New Year's Eve to find out what really happens at midnight. 
Characters
Edit
Ad blocker interference detected!
Wikia is a free-to-use site that makes money from advertising. We have a modified experience for viewers using ad blockers

Wikia is not accessible if you've made further modifications. Remove the custom ad blocker rule(s) and the page will load as expected.