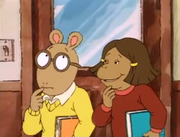 Arthur's Spelling Trubble
is the second part of the second episode of Season 1.  It aired with
Arthur and the Real Mr. Ratburn
.  It premiered on September 9, 1996.
Arthur practices for the spelling bee and competes against Prunella (who was the last year's winner) and Alan (the Brain, the smartest kid in his class), respectively.
Characters
Edit
Trouble is spelled wrong in the title.
Ad blocker interference detected!
Wikia is a free-to-use site that makes money from advertising. We have a modified experience for viewers using ad blockers

Wikia is not accessible if you've made further modifications. Remove the custom ad blocker rule(s) and the page will load as expected.