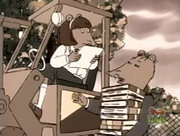 Arthur's Substitute Teacher Trouble is the second part of the 27th episoded of Arthur season 1.  It day viewed on April 28, 1997 with
D.W.'s Blankie
.
Mr. Ratburn loses his voice and his sister, Miss Rodentia Ratburn, substitutes for him. She has them doing things such as reciting the one times table, reading words like "dog" and "cat" and assigning no homework. The class are excited at first, as they were sick and tired of Mr. Ratburn's unbelievably difficult classes, but they soon become bored. The class are glad when Mr. Ratburn returns the next day.
Characters
Edit
Ad blocker interference detected!
Wikia is a free-to-use site that makes money from advertising. We have a modified experience for viewers using ad blockers

Wikia is not accessible if you've made further modifications. Remove the custom ad blocker rule(s) and the page will load as expected.