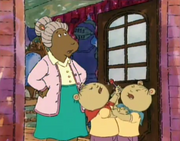 Arthur Babysits is the first part of the ninth episode of Season 1.  It day viewed with the episode
Arthur's Cousin Catastrophe
on November 4, 1996.
Arthur thinks that babysitting is the easiest job in the world until D.W. volunteers him to Tommy and Timmy Tibble.
Characters
Edit
Ad blocker interference detected!
Wikia is a free-to-use site that makes money from advertising. We have a modified experience for viewers using ad blockers

Wikia is not accessible if you've made further modifications. Remove the custom ad blocker rule(s) and the page will load as expected.