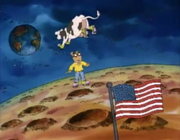 Arthur Bounces Back is the second part of episode 8 of Arthur Season 1.  It dayview on October 28, 1996 with
Arthur's New Puppy
.
Arthur wants Moon Boots and tries different ways to get money to buy them. His mom gets him to clean the garage in exchange for $2. As he is cleaning it, Mrs. Tibble comes by, thinking there is a yard sale and buys a necklace, giving Arthur enough money to buy the Moon Boots. It turns out that the necklace is to be a gift from his Dad to Mom and he has to earn the necklace back by doing chores. 
Characters
Edit
Ad blocker interference detected!
Wikia is a free-to-use site that makes money from advertising. We have a modified experience for viewers using ad blockers

Wikia is not accessible if you've made further modifications. Remove the custom ad blocker rule(s) and the page will load as expected.