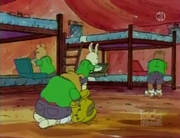 Arthur Goes to Camp is the seventh episode of Arthur Season 1.  It day viewed with the episode
Buster Makes the Grade
on October 21, 1996.
Arthur and his friends go to Camp Meadowcroak where everything is a competition between girls and boys.
Characters
Edit
Ad blocker interference detected!
Wikia is a free-to-use site that makes money from advertising. We have a modified experience for viewers using ad blockers

Wikia is not accessible if you've made further modifications. Remove the custom ad blocker rule(s) and the page will load as expected.