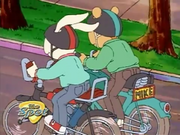 Buster's New Friend
is the second part of the 13th episode of Arthur.  It was viewed on December 9, 1996 with
So Long, Spanky
.
Arthur and Buster are doing a project together, but Buster does not seem to have the time for the project or for Arthur or anyone else. All he does is talk about his new friend Mike. Arthur decides to return everything related to Buster. At Buster's house they become friends again and he finds out Mike is a teenager, who drives a car and was hired by Buster's Mom so that Buster can have a "male role model". 
Characters
Edit
Ad blocker interference detected!
Wikia is a free-to-use site that makes money from advertising. We have a modified experience for viewers using ad blockers

Wikia is not accessible if you've made further modifications. Remove the custom ad blocker rule(s) and the page will load as expected.