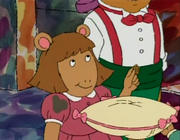 D.W. Thinks Big
is the first part of the 25th episode of Arthur season 1.  It day viewed with
Arthur Cleans Up
on March 10, 1997.
At Aunt Lucy's wedding, Arthur is the ringbearer and their dramatic diva cousin Cora is the flower girl, but D.W. is too little to do anything. However, when the wedding ring gets lost in the pipe organ at the wedding, D.W.'s size helps her.
Characters
Edit
Ad blocker interference detected!
Wikia is a free-to-use site that makes money from advertising. We have a modified experience for viewers using ad blockers

Wikia is not accessible if you've made further modifications. Remove the custom ad blocker rule(s) and the page will load as expected.