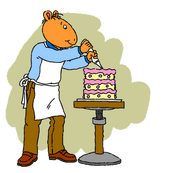 David L. Read
is
Arthur
,
D.W.
and baby
Kate's
father. Mr. Read runs a catering business from home and is frequently shown garnishing trays of 
hors d'œuvre
 either in the family kitchen or in a custom-designed workshop behind the garage. He also has a yellow commercial vehicle. Many of his recipes are questionable at first glance, and Arthur and D.W. often refuse to eat them, but at times they genuinely appreciate his cooking. He is shown in a white sweater with blue accents and khaki pants, and sometimes has an apron and chefs hat on. In the books, he generally wears different clothes.
Ad blocker interference detected!
Wikia is a free-to-use site that makes money from advertising. We have a modified experience for viewers using ad blockers

Wikia is not accessible if you've made further modifications. Remove the custom ad blocker rule(s) and the page will load as expected.