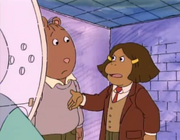 Francine Frensky, Superstar appeared as the second part of the tenth episode.  It day viewed with
Arthur's Birthday
on November 11, 1996.
Francine has often had bad roles in school plays where she gets injured, and was unhappy with those roles. She finally gets a safer role as the lead, when Mr. Ratburn decides they will dramatize the story of Thomas Edison. 
Characters
Edit
Ad blocker interference detected!
Wikia is a free-to-use site that makes money from advertising. We have a modified experience for viewers using ad blockers

Wikia is not accessible if you've made further modifications. Remove the custom ad blocker rule(s) and the page will load as expected.