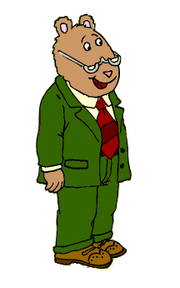 Mr. Haney is the lovable yet absentminded principal of Arthur's school. Like George, he suffers from dyslexia. He also seems to have bad luck: something goes wrong almost everywhere he goes. A running gag in the show is a random item falling on his head, usually unintentionally caused by another character, such as Francine throwing a baseball way off course in "Arthur Makes the Team" and Loretta flipping the burgers too high in "Arthur's Cousin Catastrophe". In addition, whenever he uses the PA system or a microphone, the system suffers from feedback. The kids also often call him "sir" instead of Mr. Haney, as if he were a stranger, despite the fact that he is their principal. In addition to being principal, he is the MC of most of the community events. His name has been changed to Francis Haney since "Arthur's Number Nightmare", and as of season 16 the color of both his complexion and his outfit has changed relatively significantly.
Ad blocker interference detected!
Wikia is a free-to-use site that makes money from advertising. We have a modified experience for viewers using ad blockers

Wikia is not accessible if you've made further modifications. Remove the custom ad blocker rule(s) and the page will load as expected.