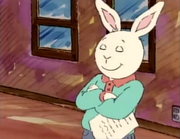 I'm a Poet is the first part of the 28th episode of Arthur season 1.  It was viewed on May 19, 1997 with The Scare-Your-Pants-Off Club!.
Fern is the only person who volunteers to enter the Poetry Competition, which is to be judged by the famous poet Jack Prelutsky. The others think poetry is uncool, and start making fun of her. Fern reveals a new side to her quiet character, and challenges them all to write poems for the competition. If they do not succeed, they will be roped into a year's membership of the school Poetry Club.  Jack Prelutsky guest stars as himself.
Characters
Edit
Ad blocker interference detected!
Wikia is a free-to-use site that makes money from advertising. We have a modified experience for viewers using ad blockers

Wikia is not accessible if you've made further modifications. Remove the custom ad blocker rule(s) and the page will load as expected.