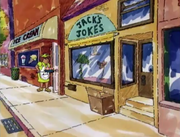 Jack Joke Shop is where you can get your fake poop, Buster Clusters, Whoopy Cushion and so on.  It is owned by a prankster and supporter of the local
schools
 Either way you will get a laugh from shopping here.  
Buster
has worked here to work off the money he owes the school for eating all the chocolates and coning people into buying his home made chocolates.  The owner is a bit of a clown.  He told free jokes on Downtown day.
Ad blocker interference detected!
Wikia is a free-to-use site that makes money from advertising. We have a modified experience for viewers using ad blockers

Wikia is not accessible if you've made further modifications. Remove the custom ad blocker rule(s) and the page will load as expected.