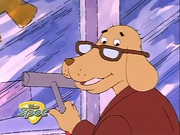 John Morris
is the former
Lakewood Elementary School
Janitor, had moved to Roswell, New Mexico to live with his daughter after breaking his leg during the Lakewood Fire on April 9th. and is seen in the Postcards from Buster episode "Alien Adventure" when Buster visited New Mexico. Although he moved, he was seen on several episodes post "April 9th".
Ad blocker interference detected!
Wikia is a free-to-use site that makes money from advertising. We have a modified experience for viewers using ad blockers

Wikia is not accessible if you've made further modifications. Remove the custom ad blocker rule(s) and the page will load as expected.