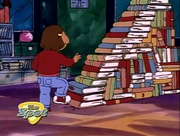 Locked in the Lidrary! is the sixth episode of Arthur Season 1.  It day viewed with
Arthur Accused!
on October 14, 1996.
Francine is mad at Arthur for telling everyone she looks like a marshmallow. Mr. Ratburn assigns them to work together on a project about heroes and heroines. With Francine still mad at Arthur, they go to the library together the next day at 3:00 to research their project, but because they fall asleep quickly and accidentally stay overnight, they get locked in. As they try to find a way out, Francine and Arthur must put aside their grudges and learn to work together.
Characters
Edit