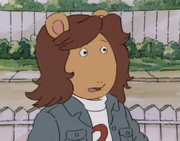 Monique
"Mo" is Arthur's oldest cousin, whom
Arthur
remembers when she had been awful to him in the past reunions and tries to avoid her, until it is revealed that Mo isn't as bad as Arthur thought. She, like Arthur, plays the piano, and claims that Arthur is her favorite relative. So far, Monique is a one-off character who only appears in "
Arthur's Cousin Catastrophe
". She's 12 years old.
Ad blocker interference detected!
Wikia is a free-to-use site that makes money from advertising. We have a modified experience for viewers using ad blockers

Wikia is not accessible if you've made further modifications. Remove the custom ad blocker rule(s) and the page will load as expected.