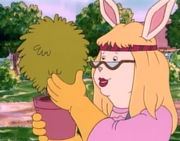 Ms. McWord is the author of a famous book series called Scare Your Pants Off.  Ms. McWord used the pen name E.A. D'Poe, she is a retired teacher. Ed Crosswire was one of her students. McWord was appalled when she found out that he was in charge of Parents Against Weird Stories which banned her books
Ad blocker interference detected!
Wikia is a free-to-use site that makes money from advertising. We have a modified experience for viewers using ad blockers

Wikia is not accessible if you've made further modifications. Remove the custom ad blocker rule(s) and the page will load as expected.