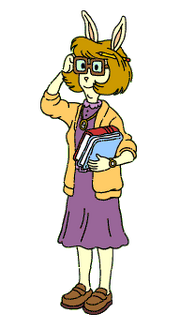 Paige is Ms. Turner's first name, pun is intended as she is in charge of the
Elwood City Library
. She is friendly, polite, and calm to her partrons and associates. A running gag is a widespread fear of her by the patrons due to their worries of failure and responsibility. Her hair color changes every season, from dark brown to light brown to blonde to red. She wears glasses and also has numerous watches. She is similar to
Mr. Ratburn
because she is an authority figure to the children. Unlike Mr. Ratburn, not much is known about her and any advice she gives is related to books. She is a rabbit. The very first scene with Mrs. Turner (handing books to Mr. Ratburn) depicted her with brown complexion as well as dark brown hair, and even uniform-style clothing.
Ad blocker interference detected!
Wikia is a free-to-use site that makes money from advertising. We have a modified experience for viewers using ad blockers

Wikia is not accessible if you've made further modifications. Remove the custom ad blocker rule(s) and the page will load as expected.