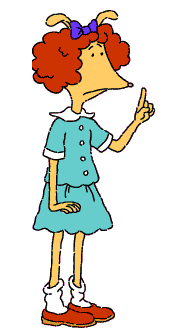 Prunella Deegan
is nine years old and a grade above
Arthur
and his friends, and as a result is somewhat snobbish and condescending towards the younger kids. She brags about winning competitions from last grade and tends to bring it up to Arthur and his friends. She is interested in yoga, fortune telling, and paranormal phenomena. She loves "
Henry Skreever"
, the series' parody of "Harry Potter". She wears a blue dress with a white collar and a purple bow in her hair.
Ad blocker interference detected!
Wikia is a free-to-use site that makes money from advertising. We have a modified experience for viewers using ad blockers

Wikia is not accessible if you've made further modifications. Remove the custom ad blocker rule(s) and the page will load as expected.