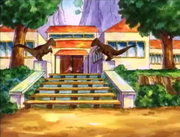 Rainbow State Park is a fossil site located some where near Elwood City.  They have exhibits and explanation on Dinosaurs and fossils.  Scientists come here to research on Dinosaurs.  
Ranger Ruth
works here leading school children and guests around the park.
Ad blocker interference detected!
Wikia is a free-to-use site that makes money from advertising. We have a modified experience for viewers using ad blockers

Wikia is not accessible if you've made further modifications. Remove the custom ad blocker rule(s) and the page will load as expected.