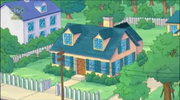 The only home
Arthur
,
D.W.
,
Baby Kate
, and
Pal
have ever known! Located at 562 Main Street, the Read house is also the home of the Annual Read Family Reunion. D.W. and Kate share a room, but Arthur has his very own. Mr. Read makes his catering creations - like wedding cakes and cranberry puree crumble - in the garage.
Ad blocker interference detected!
Wikia is a free-to-use site that makes money from advertising. We have a modified experience for viewers using ad blockers

Wikia is not accessible if you've made further modifications. Remove the custom ad blocker rule(s) and the page will load as expected.