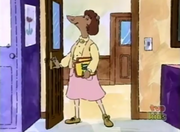 Rodentia Ratburn is Mr. Ratburn's sister, who once filled in for Mr. Ratburn for a day when he has a sore throat. Her teaching methods are notably similar to those of Miss Sweetwater and Mrs. Fink. The students initially liked the simplicity of her methods, but they proved way too childish for their age and were actually happy to have Mr. Ratburn back. In the later episode "Desk Wars", it would seem that she gave birth to a child, as Mr. Ratburn left for a phone call in which she told him he was an uncle.
Ad blocker interference detected!
Wikia is a free-to-use site that makes money from advertising. We have a modified experience for viewers using ad blockers

Wikia is not accessible if you've made further modifications. Remove the custom ad blocker rule(s) and the page will load as expected.