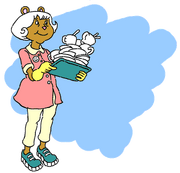 Sarah MacGrady or Mrs. MacGrady is in charge of the cafeteria at Lakewood Elementary school. She is full of unconventional wisdom, and is Grandma Thora's bingo buddy. She commonly wears a pink shirt and white pants. She, like Prunella, enjoys fortune telling. In "The Great MacGrady", Mrs. MacGrady was diagnosed with cancer. She has since continued to work at Lakewood so supposedly she is recovering from cancer. In the same episode, her name was changed to Leah MacGrady (this is a tribute to Leah Ryan, a writer with cancer who co-wrote the episode. Ryan died shortly before finishing the script). She loses hair from chemotherapy, which grows back by "Prunella and the Haunted Locker".
Ad blocker interference detected!
Wikia is a free-to-use site that makes money from advertising. We have a modified experience for viewers using ad blockers

Wikia is not accessible if you've made further modifications. Remove the custom ad blocker rule(s) and the page will load as expected.