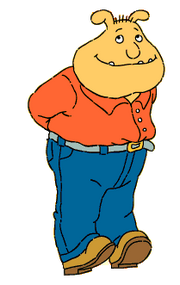 Shelley "Binky" Barnes
is a yellow bulldog who is nine years old and in third grade for the second time. He is the class bully. Though he is part of the Tough Customers, He plays the clarinet and enjoys Ballet. He is good friends with Sue Ellen. He is allergic to peanuts. In season 11, Binky became a big brother when his parents adopted a baby girl from China named Mei-Lin. In the episode "What's in a Name?", Binky discovers that his real name is Shelley and that he is named after his great grandfather who saved a circus.
Ad blocker interference detected!
Wikia is a free-to-use site that makes money from advertising. We have a modified experience for viewers using ad blockers

Wikia is not accessible if you've made further modifications. Remove the custom ad blocker rule(s) and the page will load as expected.