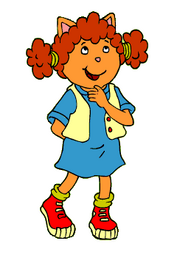 Sue Ellen Armstrong is a third grader cat at Arthur's school, Lakewood Elementary. Her father is a diplomat, so her family has lived in various spots around the world. She is interested in World culture, and is skilled in the martial arts. She practices Tae-Kwon-Do, and plays the saxophone. Sue Ellen was born as an only child, and keeps in touch with her brother-like friend on the other side of the world. She is depicted with a cream vest, a teal dress with curly orange hair contained in two ponytails. She originally had a plain hairstyle before the book, Arthur's TV Trouble and the cartoon show.
Ad blocker interference detected!
Wikia is a free-to-use site that makes money from advertising. We have a modified experience for viewers using ad blockers

Wikia is not accessible if you've made further modifications. Remove the custom ad blocker rule(s) and the page will load as expected.