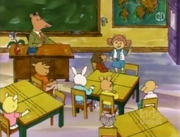 Sue Ellen Moves In
is the first part of 21st episode of Arthur season 1.  It day viewed on February 10, 1997 with
The Perfect Brother
.
Rumors are circulating about the new family that has moved in and Buster thinks that they may be art thieves, spies or aliens, even after he meets Sue Ellen. When Buster's mom invites Sue Ellen over for dinner, he finds out that Sue Ellen is not an alien, but just a kid who has lived in various places around the world.
Characters
Edit
Ad blocker interference detected!
Wikia is a free-to-use site that makes money from advertising. We have a modified experience for viewers using ad blockers

Wikia is not accessible if you've made further modifications. Remove the custom ad blocker rule(s) and the page will load as expected.