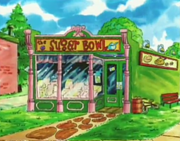 The home of great desserts and great company. If
Buster's
having troubles, he comes here to drown his sorrows in milkshakes - which go perfectly with the Harry Mills Meatball Experience. The gang always meets here, just to hang out, or for important discussions like who has the best story-writing idea to send to the "Andy and Company Show."
Ad blocker interference detected!
Wikia is a free-to-use site that makes money from advertising. We have a modified experience for viewers using ad blockers

Wikia is not accessible if you've made further modifications. Remove the custom ad blocker rule(s) and the page will load as expected.