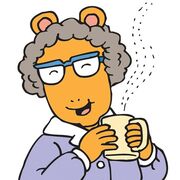 Grandma Thora is Arthur, D.W., and baby Kate's paternal grandmother and Loretta and David's mother, who is quite caring, but is a poor cook, as revealed in the episode "The Half-Baked Sale." Despite this, she was able to bake Arthur's birthday cake in one episode. She is a columnist. In a flashback in 
Clarissa is Cracked
, Thora had three brothers. Gramdma Thora is David Read's mother. It is revealed in "April 9th" that she had gotten in a car accident (but was not hurt) when David was Arthur's age. Grandma Thora is based on Brown's own grandmother Thora, who encouraged him by saving his childhood drawings in a bottom drawer.
Ad blocker interference detected!
Wikia is a free-to-use site that makes money from advertising. We have a modified experience for viewers using ad blockers

Wikia is not accessible if you've made further modifications. Remove the custom ad blocker rule(s) and the page will load as expected.